Current issue
---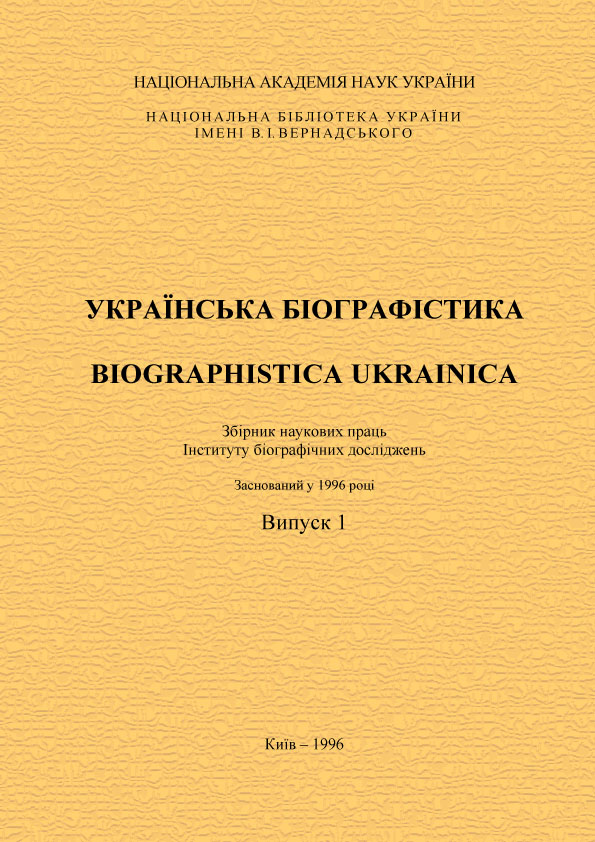 Collection of scientific works  «Ukrainian Biographistics = Biographistica Ukrainica» was established by Institute of Biographical Researches of V.I.Vernadsky National Library of Ukraine in 1996. It is published up to two times per year.
State registration certificate of the printed publication :
Series КВ № 15825-4297Р  of 12.10.2009
 ISSN 2520-2855 (Print), ISSN 2520-2863 (Online)
The collection was registered by the the Ministry of education and science of Ukraine as a specialized publication in specialties "Historical sciences" (Resolution of the Ministry of education and science of Ukraine 29.09.2015 No.1021) and "Social communications" (Resolution of the Ministry of education and science of Ukraine 21.12.2015 No.1328).
The collection was included into the scientometrical database Google Scholar.
Language of publication: articles are published in Ukrainian, English, Russian and other Slavic languages
Founder: V.I.Vernadsky National Library of Ukraine
Publisher: V.I.Vernadsky National Library of Ukraine
Chief editor: Volodymyr  Ivanovych  Popyk, associate member of NAS of Ukraine, DSc (History)
Executive editor : Nadia Ivanivna Lyubovets, Cand.Sc. (History)
Range of problems:
presentation of problems in biographical science (history, theory, methodology), biographical study, bio-bibliography, formation of biographic information resources
research of role and place of biographic knowledge in life of modern Ukrainian society and libraries as biographic information integrators and distributors
Main sections of the journal:
Theoretical and methodical problems of biographic researches
Biographic and genealogical surveys
History and culture through the prism of biography study
Resources and sources of biographic information
To the history of biographic researches in Ukraine
Bibliography, reviews, information
The collection is intended for biography study researches, pedagogues of higher education institutions and students, employees of libraries, museums and archives, regional ethnographers.
---

The series of scientific articles "Ukrainian Biographistics" maintains a policy of open access to published material, recognizing the priority principles of the free dissemination of scientific information and knowledge exchange for global social progress.
Users are free to read, download, copy and distribute the content for educational and scientific purposes with obligatory indication of authorship.
---
| | |
| --- | --- |
| | Electronic version of the journal in "Scientific periodicals of Ukraine" |
| | The publication is indixed in Google Scholar |
| | The publication is represented in abstract database "Scientific Ukrainian Studies/Ukrainika naukova" |